Welcome to our web site, we trust that you will enjoy browsing through it.

You are always welcome to visit us again and feel free to tell your friends about this page.
What do we do?

We specialize in the development and custom designing of electronic equipment and hobby kits to YOUR request and specification. JDM Electronics designs those little devices or gadgets you love to have, but can't buy over the counter easily.
You, the valued customer, specify your needs and JDM will design it for you.
The following picture is the latest design of the SMS Controller board, that can be used with a GSM modem to act as an intelligent control device, fully configurable and controllable via SMS, now with a lot more commands for your convenience like e-mail notifications, prepay SIM top-up, balance enquiry enable / disable reporting, and a lot more.
This device got 8 inputs, (4 x opto-isolated and 4 x direct processor inputs).
Four outputs, (2 relay outputs and 2 open collector transistor outputs) for industrial contactor operation.
More than 50 SMS command that can be used to configure and control this device.
12 / 24 Volt DC operation.
A/D input for temperature measurement.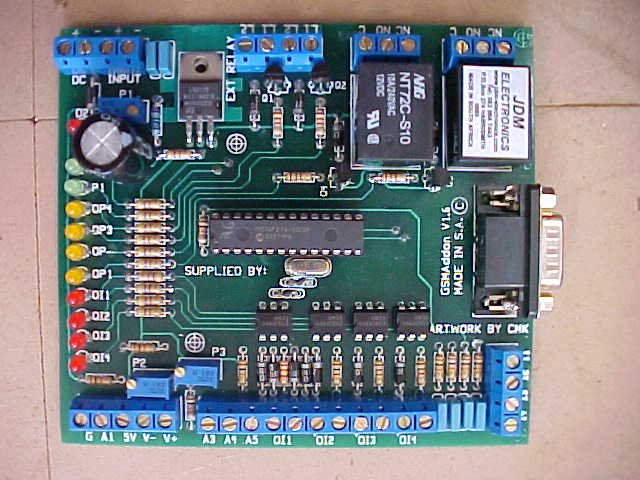 SMS Controller distributed by JDM Electronics and RF Design Cape Town and Johannesburg.

This site is still under development. We will be showing you more of the projects we have designed later on.